Italy; the land of dreams. It is not known as such, nor is it its nickname or moniker. But, that's the truth. It's a land of some of the best football in the world if you love sports. Country of fashion too. Tourism, adventure, and exploration go hand in hand with the great boot. If you want to visit the sea resorts, it offers a dozen of its seas. If you're taking a step back in time, the monuments you'll find there are not to be found anywhere in the world. It's not the birthplace of civilization but its contribution to Europe's development is immeasurable.
We could talk about fast cars or beautiful people, but we won't. Instead, there's something else that sets Italy apart from the rest of the world. We're talking about its cuisine. That's right, it's a subject worthy of further exploration. We're not talking about its famous dishes such as pizza, spaghetti, or lasagna. We will delve more into the local cuisines that are nurtured in the corners of Italy that not too many tourists visit. This doesn't mean they shouldn't.
Instead, our goal is to make this food we're about to speak of more accessible to a broad audience. So, the next time you plan to travel to Italy, don't think about Verona, Venice, Romeo & Juliet, Inter, Milan, Turin, Juventus, or Vatican and Coliseum but instead focus on the food you'll be tasting. So, take a few minutes of your time and dedicate it to authentic Italy. Book your travel and start exploring the unforgettable tastes loved by locals in this amazing country. This is where you start. It's up to you where you'll finish. Take a look at what's on our menu.
Focaccia di Recco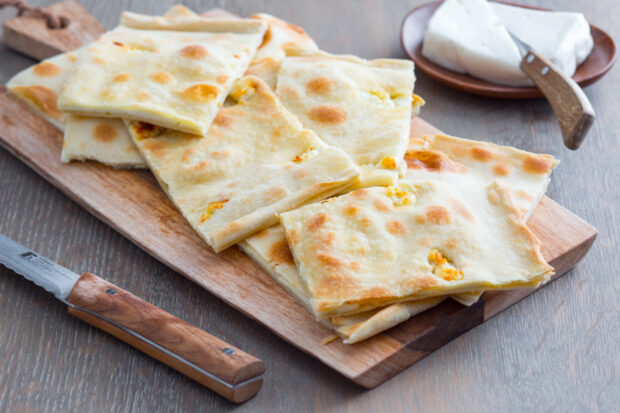 Focaccia is a well-known dish. It is a mixture of tomatoes and onions both well-dried and almost caramelized, a little bit fluffy, and bread-like. But if you try out the Recco version, you'll see how it is so much more. The so-called Ligurian version has a small addition to it. It is spiced with some amazing local cheese. It adds an extra layer to this dish, and you'll without a doubt enjoy its calories. We know we did.
Arancini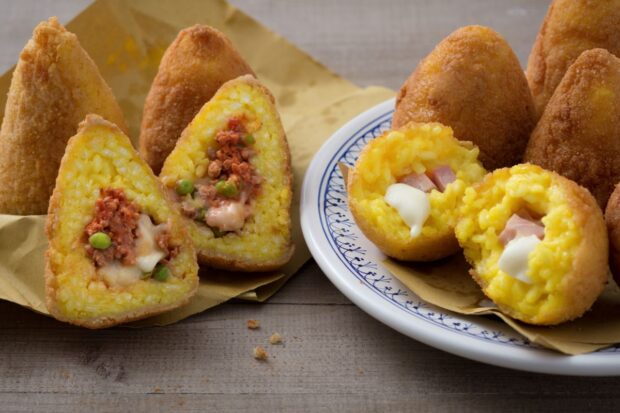 To taste this one, we'll be traveling far down to the south of the country. It is a well-known dish in parts of South Italy and of course Sicily. In essence, Arancini are rice balls. They're usually stuffed with additions of tomato and meat sauce, cheese, and we're talking mozzarella, and of course peas. When you make the ball you need to deep fry it. When it's out of the frying pan, it is a dish that you'll enjoy in both taste and appearance. They look like small oranges but are so much more. If you find yourself down in the south of the peninsula be sure to make this one of your capital meals.
Cacciucco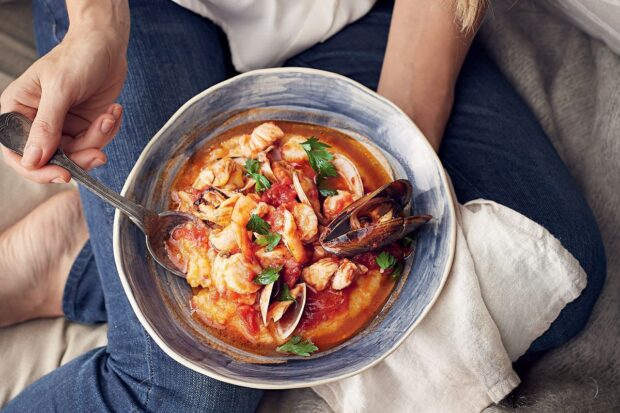 If you're a fan of stews add this one to your bucket list. When in Italy you need to try the seafood they have in abundance. Each dish is a story for itself, but this one is special in so many ways. It is, as it's usually the case in Italy, based on tomato sauce and of course the fish. It is local in parts of Liguria and Tuscany. So, when in those regions, remember this one. It is usually made out of a few types of fish. And when we say few we mean it. You'll find pieces of scallops, monkfish, squid, red mullet, and even octopus. What makes it a bit spicy is the fact that it's brewed with an addition of a glass of red wine. As a side dish, you'll usually receive the local bread. Nothing more is needed to be honest.
Bagna Cauda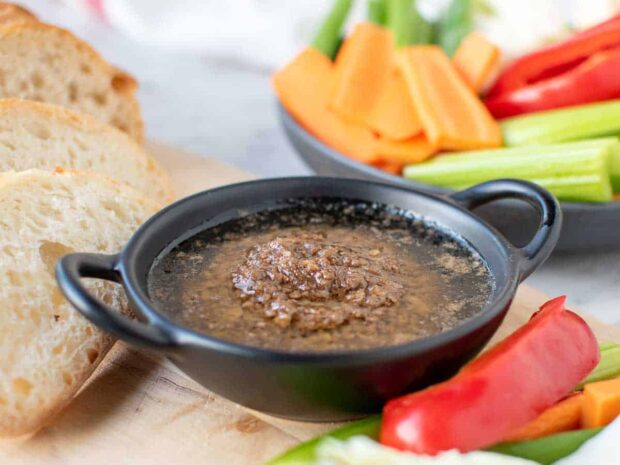 Italy is a vast country. It's worth exploring. While you'd be inclined to believe that all the fancy dishes are tied to the southern parts of the country, the north has its charms too. Let's talk about this one dish from Piedmont called Bagna Cauda. Above all else, you need to look at it as a dip, one based on garlic and anchovy, and creamy as your dreams wouldn't have imagined it. If you're looking for a comparison, the best route to take is fondue. It is also served with a fresh vegetable on the side and some bread.
Lampredotto
A step back, and we're once again in Tuscany. This is a hidden dish that locals here simply adore, and love to serve to their visitors. Usually, this one is served as a sandwich. But to fully enjoy it, it needs to be served as a main dish. It is quite a fascinating meal, as it's made out of steer. But not any part, but directly from the pieces of one of its four stomachs. Lampredotto needs to be carefully cooked in a mixture of cloves, parsley, pepper, onions, carrots, and celery. Some variations contain tomato sauce and chards.
Ravioli all'Arancia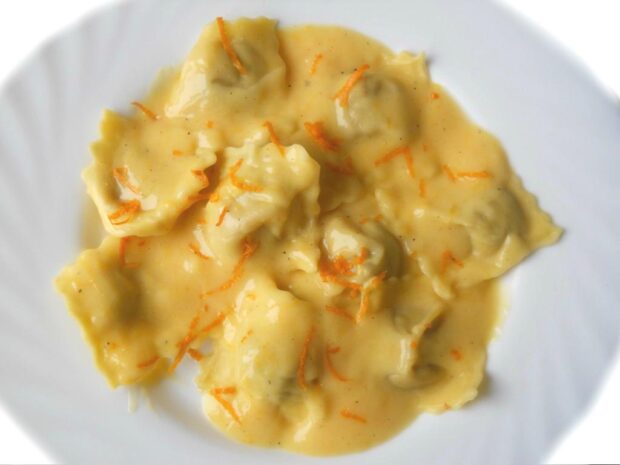 Ravioli as a dish is no mystery. You've heard of them. But, Italy is so vast in terms of its cuisine that every region has its variation. This one needs to be tasted. You have so many reasons. For one, these are a truly interesting mixture. These ravioli are specially filled. We're talking about a mixture made out of ricotta and orange zest. When the mixture is made, and the ravioli are cooked they are to be dressed with olive oil. The final touch is parmesan scattered all over them. A dish worth your taste indeed.
Carciofi alla Romana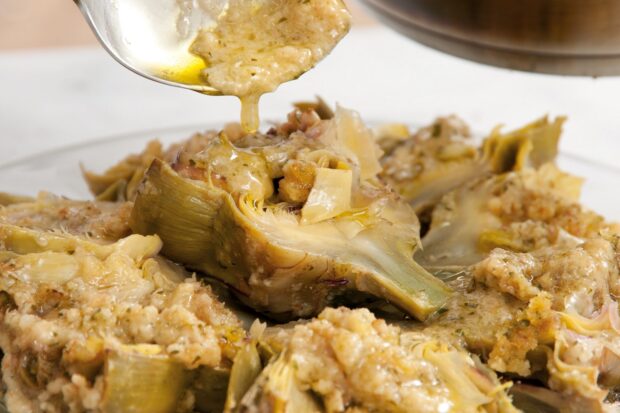 It's time for us to write a few sentences about Roman Artichokes. Their season is spring, and if you're visiting Rome in early April or May you need to taste this dish. To prepare this dish, you'll require cut and cleaned artichokes that include no thorns or hard leaves. From what's left this unique dish is prepared. When they're cut clean, they're bathed in lemon juice, herbs, garlic, salt, and pepper, and drowned in a mixture of water and white wine. They're cooked until the liquor evaporates. Once out of the water, they're dressed with olive oil, herbs, and spices once again, and served. A must-try in our book.
Final Thoughts
Italy is full of surprises, and its cuisine leaves no one indifferent. We could go on and on with their local cuisine, but stopping here is good for your stomach. We gave you an idea of what awaits. Go and explore it. Help us expand this article with your discoveries.