Situated in the heart of southwestern Africa, Namibia is a remarkable blend of African culture intertwined with German colonial influences. This stunning harmony manifests in everything, from its architecture to its cuisine.
The vast, diverse landscapes, spanning the golden dunes of the Namib Desert to the teeming wildlife in the Caprivi Strip, have enchanted adventurers and wanderers for years. As we look to 2023, the significance of this year becomes clear.
Namibia, with its rapidly evolving infrastructure and its fervent commitment to sustainable and eco-friendly tourism, beckons to be the hotspot for those seeking both adventure and luxury.
Namibian Landscape & Key Attractions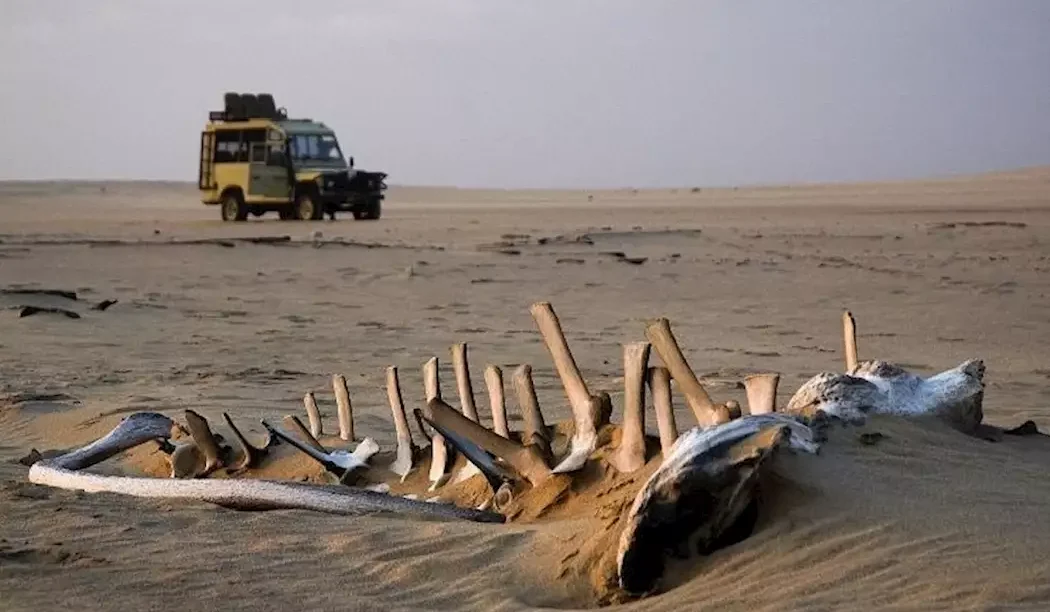 Namibia's vast terrains are a feast for the eyes. The Skeleton Coast, often shrouded in mist and named for its shipwreck-strewn shores, promises eerie beauty. Contrast this with the towering, sun-drenched dunes of Sossusvlei, painting the sky in shades of red and orange.
Etosha National Park, a sanctuary for wildlife, offers more than just a safari experience. Here, the big five roam free, alongside endangered species like the regal black rhino. The grandeur of the Fish River Canyon, the world's second-largest, is a sight that promises to stay with you forever.
Not to be missed, the vibrant coastal town of Swakopmund perfectly encapsulates Namibia's diverse heritage with its blend of Namibian traditions and German architectural nuances.
Read about the best hotels and lodges to stay in Namibia if you're already speeding to find accommodations in this African country. If not, keep reading what we see as ideal locations in Namibia worth exploring.
Accommodation in Windhoek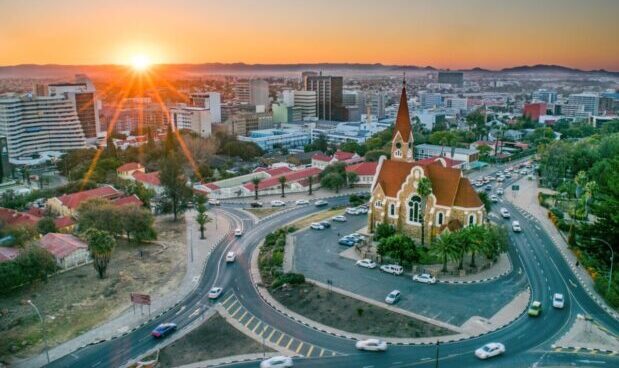 Windhoek, the beating heart and bustling capital of Namibia, effortlessly merges modernity with its rich history. It's the ideal launchpad for any Namibian journey.
Budget-conscious travelers will find a haven at the Chameleon Backpackers Hostel, renowned for its vibrant energy and multicultural vibe. For those desiring a mix of affordability and comfort, Hotel Uhland offers a delightful stay, ensuring each guest feels right at home.
For the discerning traveler seeking luxury, Hotel Heinitzburg stands as a testament to opulence. Built like a castle, it offers panoramic views of the city, allowing guests to bask in the beauty of Windhoek from a regal vantage point.
Staying in Swakopmund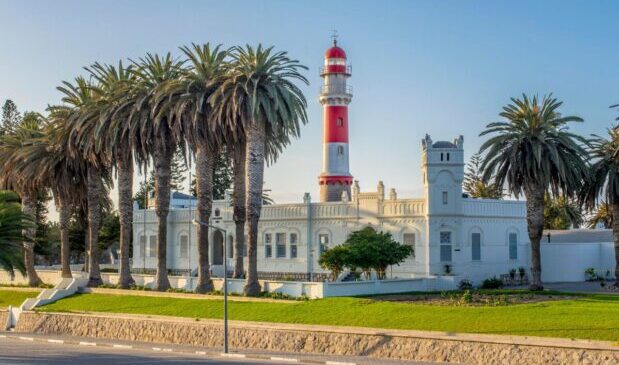 Nestled where the stark Namib Desert kisses the Atlantic Ocean, Swakopmund is a coastal jewel. Its quaint colonial architecture, punctuated by palm-lined streets and seaside promenades, reflects its rich history.
Amanpuri Travellers Lodge, a haven for budget travelers, offers cozy stays without compromising on quality. For those yearning for more amenities, the Strand Hotel, sitting right by the ocean, promises serene views and impeccable service.
And for an unparalleled luxury experience, the Swakopmund Boutique Hotel, with its curated interiors and world-class facilities, ensures an unforgettable stay.
Adventures in Etosha National Park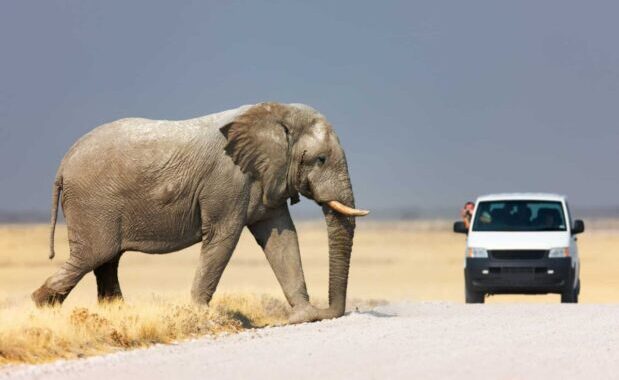 Etosha National Park, a vast expanse dominated by an ethereal salt pan visible even from space, is Namibia's wildlife epicenter. It's a paradise where lions, majestic elephants, and elusive leopards roam freely.
For travelers on a shoestring budget, the rustic charm of Okaukuejo Camp promises starlit nights and wildlife sightings. The Etosha Safari Lodge, a mid-range gem, offers breathtaking panoramas of the park, making it a favorite amongst wildlife photographers.
For a deep dive into luxury amidst the wild, the Ongava Tented Camp delivers an unmatched safari experience, replete with bespoke services and guided tours.
Also, read how you can spend three weeks on an Ideal African Safari and enjoy nature.
Damaraland's Unique Stays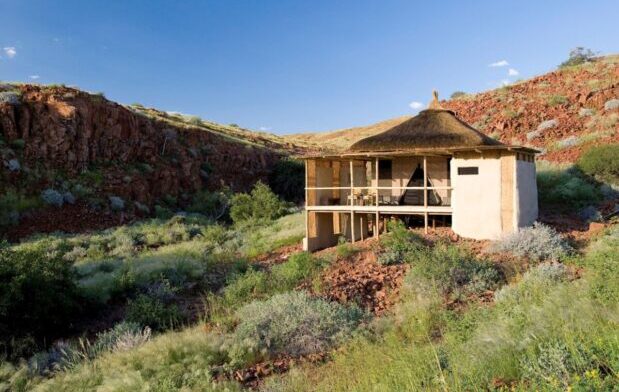 Damaraland, with its rugged terrains, millennia-old rock art, and rare desert-adapted elephants, beckons the true explorer. Doro Nawas Camp, melding traditional design with contemporary comforts, offers a window into Namibia's heart.
For those wanting to drench themselves in luxury while enveloped by Damaraland's raw beauty, the Damaraland Camp provides a serene oasis, ensuring every guest leaves with memories etched for a lifetime.
Exploring the Caprivi Strip
Caprivi Strip, a lush tapestry of rivers, wetlands, and forests, stands in stark contrast to Namibia's arid landscapes. Budget explorers can soak in nature's splendor at Ngepi Camp, nestled on the pristine banks of the Okavango River.
Those craving luxury amidst nature should look no further than Divava Okavango Resort & Spa. With its lavish suites and riverview balconies, it redefines opulence in the wild.
Budget Travel: Affordable Accommodations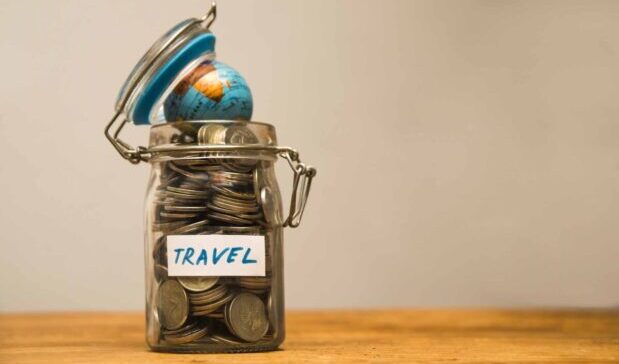 Namibia warmly embraces backpackers with its array of hostels and budget lodges. In Windhoek, the Cardboard Box Hostel is a hive of activity and camaraderie. Meanwhile, Swakopmund's Desert Sky Backpackers Lodge offers stunning desert vistas.
Tsumeb Backpackers in northern Namibia is an oasis for those heading towards the rich wildlife of the Caprivi Strip. Savvy travelers should always be on the lookout for offseason rates, special promotions, and group booking deals, ensuring value for every penny spent.
Luxury Retreats in Namibia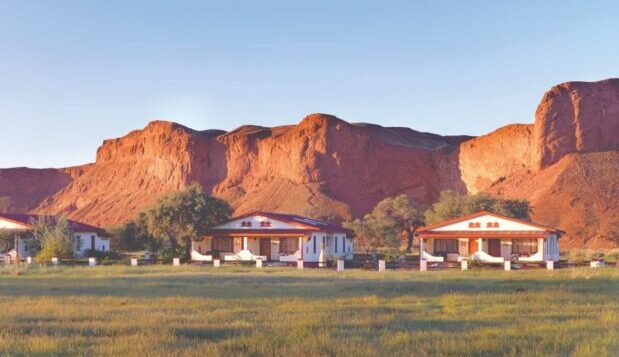 Namibia, with its raw landscapes and pristine beauty, also houses some of the continent's most luxurious retreats. Namib Desert Lodge, with its panoramic desert views, promises seclusion and serenity.
Zannier Hotels Omaanda, nestled in a private reserve, offers a blend of traditional Namibian architecture and ultra-luxurious amenities. The iconic Sossusvlei Desert Lodge, perched amidst the dunes, provides a surreal experience, merging the desert's vastness with unparalleled luxury.
Tips to Save on Hotel Bookings
Traveling smart in Namibia means optimizing your budget without compromising the experience. The shoulder seasons, with their mild weather and fewer tourists, often come with price cuts on accommodations.
Many major hotel chains in Namibia offer loyalty programs that can lead to substantial savings or upgrades. Additionally, using trusted booking platforms like Booking.com and Agoda can yield unexpected deals, especially for those flexible with early bird bookings or last-minute stays.
Namibian Cultural Homestays
Community-based tourism is not just a buzzword in Namibia; it's a thriving movement. Immersing oneself in the local culture, tasting traditional dishes, and sharing stories with local families provides a unique, authentic experience.
Organizations such as NACOBTA champion this cause, ensuring that travelers not only enjoy but also contribute to the community they visit.
Conclusion and Trip Planning Resources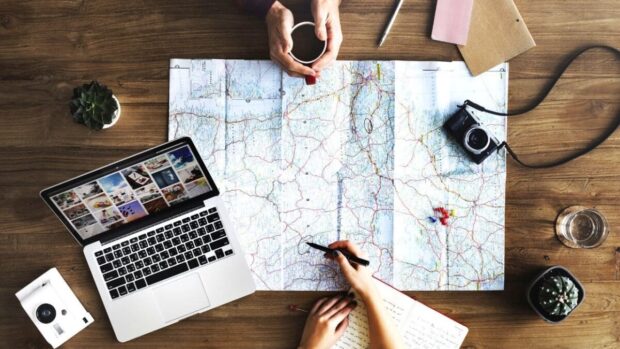 Namibia in 2023 stands as a beacon for intrepid explorers, culture enthusiasts, and luxury seekers alike. Its rich tapestry of landscapes, culture, and wildlife promises an unmatched experience.
To seamlessly plan a Namibian sojourn, platforms like Booking.com, Agoda, and expert local tour operators such as Wild Dog Safaris are invaluable.
A well-planned trip, coupled with local insights and timely bookings, ensures that every traveler can savor the very best of Namibia without burning a hole in their pocket.